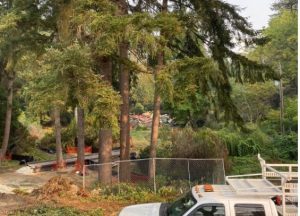 Lake City Floodplain Park Update – this is the property north of 125th that had the red house down below:
Demolition
Demolition of the site's existing structures is expected to be complete by early November 2022. Seattle Parks and Recreation's metal shop fabricated a temporary bridge crossing for access to dismantle the back structure and the demolition team is currently onsite completing the work. The smaller structure, closest to NE 125th Street, was demolished in June 2022.
Sewer odors
There were community observations that the site had a sewer odor smell. King County Wastewater sealed their maintenance hole lid and investigated upstream and downstream to confirm that there are no leaks into Thornton Creek from the King County sewer line. Seattle Public Utilities has also performed dye tests and confirmed that there are no leaks into Thornton Creek from the shared side sewer.
Participation
Seattle Parks and Recreation, Seattle Public Utilities, and Mid Sound Fisheries Enhancement Group are working toward their third community online workshop scheduled for this winter. We will be asked to help further refine park design options to a preferred design. Community participation is critical in designing the proposed Lake City Floodplain Park.
Updates